Wire EDM, Sinker EDM and Small Hole EDM
An industry leader in precision wire, sinker and small hole electrical discharge machining (EDM), New Jersey Precision Technologies, Inc. uses top of the line Mitsubishi wire and sinker EDMs as well as CNC small hole drilling EDMs. Combining the highest quality fully-automated machines on the market and highly skilled machinists ensures we can accommodate your needs and meet all of your specifications. Our customers represent a variety of industries, with particular focus on medical devices and implants as well as aerospace, automotive and electronics. We can machine any conductive material, including hardened metals, superalloys, high-performance alloys, exotic metals and more, and we can handle projects of all sizes, whether they are prototypes, short- or long-run. Wire EDM can hold tolerances of ±.0001", sinker EDM ±.0002", and small hole EDM ±.0015".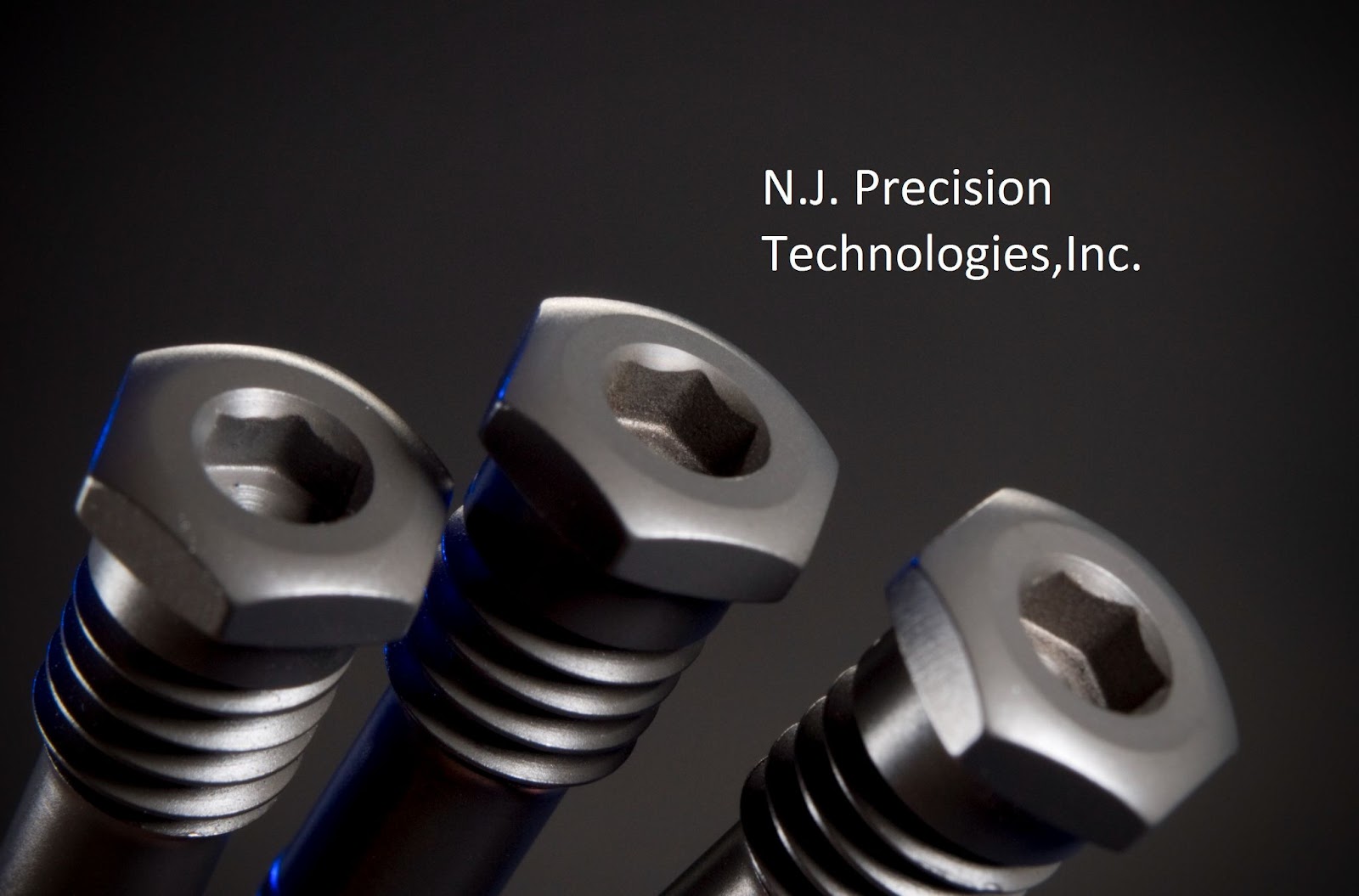 Conventional Sinker EDM Bone Screws
(PDF – 128 KB)
We welcome the opportunity to discuss your machining needs.Please contact New Jersey Precision Technologies by phone at 1.800.409.3000, fax at 1.800.409.3022 or email at sales@njpt.com. Visit our What is Wire EDM? page for more information on the EDM process.
Wire EDM
Sinker EDM
Hole Pop EDM
Max. Material Thickness
18" (457.2 mm)
12" (304.8 mm)
12" (304.8 mm)
Max. Part Length
36" (914.4 mm)
24" (609.6 mm)
36" (914.4 mm)
Max. Part Width
24" (609.6 mm)
14" (355.6 mm)
24" (609.6 mm)
Taper Angle
45°
--
--
Min. Internal Corner Radius
.0025" (.064 mm)
001" (.025 mm)
--
Wire/Electrode Diameter
.004"-.012" (.101 mm-.304 mm)
--
.010"-.125" (.254 mm-3.175 mm)
Wire/Electrode Materials

Graphite
Copper-impregnated
Copper Tungsten

Tolerances (+/-)
+/-.0001"
+/.0002"
+/-.0015" (locational)
Equipment Capabilities

Auto-threading
Unattended run
Five-axis CNC
Stacked parts machining
Temperature control

Four-axis CNC
Custom manufactured multi-up fixtures and electrodes
Temperature control

Materials

Stainless steel
Alloy steels
Hardened steels
Titanium
Carbon steel
Molybdenum
Monel
Tungsten
Aluminum
Brass
Carbide
Carbide substrates
Polycrystalline diamond (PCD)
Graphite
Cobalt
Cobalt chrome
Copper

Iron
Lead
Magnesium
Nickel
Gold
Inconel
Hastelloy
Kovar
Niobium
Platinum
Rhenium
Tantalum
Silver
Superalloys
High-performance alloys
Conductive ceramics

Production Volume

Prototype
Short run
Long run

Lead Time

Quotations within 24 hours
24-hour rush orders available

Inventory and consignment programs available
Just In Time (J.I.T.) deliveries

Secondary Capabilities

Engineering and design


Design for manufacturability
Reverse engineering (CMM with scanning capabilities)

Black oxide coating
Plating
Polishing
Anodizing

Heat treatment
Welding
Assembly
Non-destructive testing
Quality control and inspection
Custom packaging and labeling

Industry Focus/Applications

Medical


Orthopedics
Cardiovascular
Endoscopy
Pharmaceutical
Drug Delivery
General Medical

Plastic Extrusion


Point of Purchase (POP)
Display
Window/Architectural
Tubing/Hollow
Industrial/Commercial
Medical Devices

Tool and Die
Moldmaking
Semiconductor
Aerospace
Defense
Energy
Consumer Products
Optics and Laser
Electronics
Instrumentation
Automotive
Packaging

Industry Standards

ISO 9001:2008 Certified: Quality Management System
ISO 13485:2003 Certified: Quality Management System for Medical Device Regulatory Requirements
American National Standards Institute (ANSI)
American Society of Mechanical Engineers (ASME)
American Society for Testing and Materials (ASTM)
Current Good Manufacturing Practices (cGMP) Compliant

Food and Drug Administration (FDA) Compliant
Military Specifications (Mil-Spec)
Society of Automotive Engineers (SAE) Compliant
Restriction of Hazardous Substances Directive (RoHS2)
Regulation of Conflict Minerals (Dodd-Frank Wall Street Reform and Consumer Protection Act, Section 1502)

File Formats

AutoCAD (DWG, DXF)
Drawing Interchange Format, Drawing Exchange Format (DXF)
Pro-E or Pro/Engineer (DRW, PRT, XPR)
SolidWorks (SLDPRT, SLDDRW, SLDDRT)
Standard for the Exchange of Product Model Data (STEP, STP)
Initial Graphics Exchange Specification (IGES)

Inventor (IDW, IPT)
Parasolid (XT, XB)
Portable Document Format (PDF)
Joint Photographic Experts Group (JPEG, JPG)
Tagged Image File Format (TIFF)
Graphics Interchange Format (GIF)
What is Electrical Discharge Machining? (EDM)
New Jersey Precision Technologies, Inc.
Wire EDM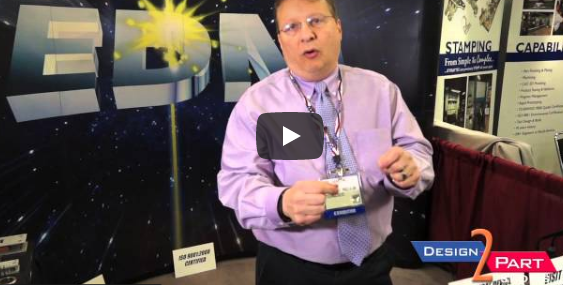 Wire electrical discharge machining (EDM) is a non-traditional machining process that uses electricity to cut any conductive material precisely and accurately with a thin, electrically charged copper or brass wire as an electrode.During the wire EDM process, the wire carries one side of an electrical charge and the workpiece carries the other side of the charge. When the wire gets close to the part, the attraction of electrical charges creates a controlled spark, melting and vaporizing microscopic particles of material. The spark also removes a miniscule chunk of the wire, so after the wire travels through the workpiece one time, the machine discards the used wire and automatically advances new wire. The process takes place quickly—hundreds of thousands of sparks per second—but the wire never touches the workpiece. The spark erosion occurs along the entire length of the wire adjacent to the workpiece, so the result is a part with an excellent surface finish and no burrs regardless of how large or small the cut.Wire EDM machines use a dielectric solution of deionized water to continuously cool and flush the machining area while EDM is taking place. In many cases the entire part is submerged in the dielectric fluid, while high-pressure upper and lower flushing nozzles clear out microscopic debris from the surrounding area of the wire during the cutting process. The fluid also acts as a non-conductive barrier, preventing the formation of electrically conductive channels in the machining area. When the wire gets close to the part, the intensity of the electric field overcomes the barrier and dielectric breakdown occurs, allowing current to flow between the wire and the workpiece, resulting in an electrical spark.
On most wire EDM machines, the path of the wire is controlled by computer numerically-controlled (CNC) diamond guides, which can move independently of each other on multiple axes for tapered cuts and complex shapes such as small-radius inside corners and narrow slots. Additionally, wire sizes vary from 0.012" diameter down to 0.004" for high-precision work. Wire EDM is capable of holding tolerances as tight as +/-0.0001".Wire EDM provides a solution to the problems encountered when trying to machine materials that are normally difficult to work with, such as hardened steel, aerospace-grade titanium, high-alloy steel, tungsten carbide, Inconel, and even certain conductive ceramics.
One requirement of the wire EDM process is a start hole for threading the wire if the part's features do not allow you to cut an edge. Wire EDM can only machine through features; however, we can quickly drill a hole in any conductive material using another type of EDM, small hole drilling or "hole pop" EDM.
Hole Pop EDM
Small hole drilling or "hole pop" EDM utilizes a hollow round electrode to EDM a hole through the workpiece. Like wire EDM, hole pop EDM uses spark erosion to remove material; however, in hole pop EDM the size of the hole is controlled by the diameter of the electrode. Dielectric fluid is pumped through and around the electrode during the EDM process for cooling and flushing of eroded particles. CNC hole drilling EDM enables unattended drilling of multiple holes quickly and easily without the risks of manual positioning. Hole pop EDM is ideal for parts requiring start holes, vent holes, coolant holes, ejector pin holes or other blind holes, and is useful in removing broken taps and drill bits.
Sinker EDM
Sinker EDM, also known as ram EDM, conventional EDM or plunge EDM, employs machined electrodes of varying shapes, sizes and materials to remove material from the workpiece. Electrodes are usually made from graphite, but copper, tungsten or brass as well as combinations of these materials are also used, and the geometric features of the electrode can be customized to reach the required specifications. In the sinker EDM process, both the workpiece and the electrode are submerged in a dielectric fluid of oil or synthetic oil and the machine guides the electrode toward the workpiece automatically using CNC technology. As in wire EDM, as the electrode approaches the workpiece, the strength of the electrical charges breaks the barrier of dielectric fluid and a spark is created, eroding away a small amount of material by melting and vaporizing microscopic particles. The process repeats hundreds of thousands of times per second, and as material is removed, the machine continues to direct the movement of the electrode until the desired dimensions are achieved. After the initial "roughing" pass, during which the bulk of the material is removed, we may perform additional 3-D orbiting passes in order to achieve the best surface finish and tightest tolerances possible. Sinker EDM allows us to machine complex 3-D shapes, blind cavities, intricate internal features, threads into hardened parts, and much more. In addition, sinker EDM has the ability to use multi-up electrodes for multi-up parts production—in some cases, we can sinker EDM 100 pieces simultaneously.
Why use EDM?
EDM can easily machine parts with very thin walls, complex geometry, narrow slots, small corner radii, very small features, etc. with virtually no mechanical stress.
EDM can cut hardened steel, titanium, Inconel and other difficult materials without the limitations of traditional machining.
EDM can achieve an excellent surface finish with no burrs right out of the machine.
EDM can reduce production costs with stacked parts machining using wire EDM as well as multi-up fixturing for wire, sinker and hole pop EDM.
Use EDM over broaching for better precision, accuracy and finish, no need to make a custom broach, and no risk of introducing unwanted debris into the finished part.
Use EDM instead of short-run stamping for straight-edge cuts with sharp corners and no shear or break as well as reduced costs by eliminating the need for special tooling.
Visit our EDM Services section for more information on our EDM capabilities and lead times, or contact us to request a quote. New Jersey Precision Technologies, Inc.